One of the many artisans of our Chocolate & Beyond event is Harry's Seafood Bar and Grille located in historic downtown St. Augustine. According to Harry's employee Jaime Greco, "Harry's is a one of a kind restaurant. The entire atmosphere, from the beautiful courtyard to the live music at night to the bay front views from inside seating, is an experience everyone should have." Harry's Seafood Bar and Grille is a Louisiana kick to our historic town that adds charm, character and that extra spice!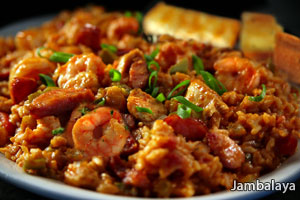 One of the two creations they are featuring at our Chocolate & Beyond event is their famously known Jambalaya.  This delicious entrée is full of down home cajun style, with superb seasoned chicken, manda sausage and succulent shrimp that will make your taste buds jump! This is all combined with their traditional homemade Jambalaya sauce. This is a great meal to warm your bellies, and comfort your heart.
Also, we are lucky enough to announce that Harry's Seafood Bar and Grille will also be featuring their mouthwatering Chocolate Bread Pudding! This is a delectable dark chocolate dessert drenched in their homemade white chocolate bourbon sauce, adding a little charm to it. Placing in some classic vanilla ice cream, with some evenly spread cocoa powder just adds even more value to each spoon full. No matter what your favorite dessert is, this baby will definitely draw you in for a bite!
These two amazing dishes will be featured at the RSVP of St. Johns County's Chocolate & Beyond event. We here at RSVP are very excited to share Harry's Seafood Bar and Grille's traditional and exciting dishes with all of you. So please come on down on Saturday February 23rd to support our great cause and try out these scrumptious dishes!
Written By: Heather Holtzendorf