We are very excited planning for the Mentor Fair, on Wed., Jan. 29 from 8-Noon at The Fullerwood Center. There will be representatives from Take Stock in Children, ASSIST Program, RSVP, schools and more. A continental breakfast will be provided by Everything Bagel, sponsored by RSVP. See you at the Mentor Fair!
Bilingual RSVP volunteers will visit Language Exploration Enrichment classes during Spanish class to read El Joven Martin Luther King to students in grades K-5th in St. Johns County Schools. Embedded reading method will be used to check for reading and comprehension. An art project will follow reading, and will be displayed during the week. Upcoming Civil Rights Museum, MLK Jr. community service project. RSVP of St. Johns County and Middle and High School students will participate in event, sharing history of local events surrounding civil rights issues.
We have, on that day, (2/20), Representatives of the Willits BookTrust who will be traveling from Pennsylvania and Sarasota, FL to make a presentation of books for our Library/Reading Room that will be in our museum. This will give students a feel of what it was like in 1963-64 before they read the books. ACCORD Inc 79 Bridge St St Augustine , FL 32084 See map: Google Maps
  At St. Augustine High School on November 8th a breakfast service was held in the Garden as a dedication to all the special need students who worked hard on the beautiful garden. RSVP thanks everyone for all their support! Below are pictures from the service.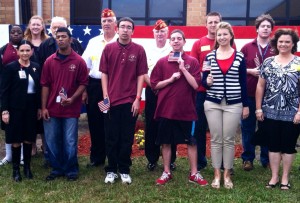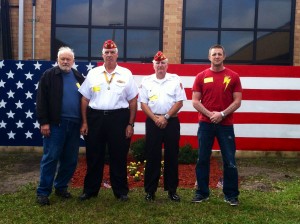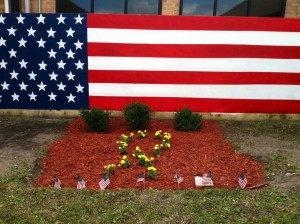 RSVP celebrates this day in honor of all the courageous and wonderful men/women who have served our country. We Salute our veterans!
If you are a Veteran call us today!! RSVP is always looking for volunteers!
Teaching elementary students to hold/fold a flag.
Speaking in High Schools about being a veteran for the country.
Special projects.
Call us at: (904) 547-3945